Herbal Weight Gain Product – Accumass
Are you feeling embarrassed in your friend circle due to your Low Body Weight and thin frame? In today's modern world, mostly underweight people face trouble due to their thin physique, as physique is one of the important criteria to judge people. Most of underweight people often get rejections and ignorance in the society, schools and workplaces. To get body weight most of them indulge in wrong lifestyle and consumption of chemically synthesized products which cause harm to the body.
For such peoples, Ayurvedic Herbs work in a natural way to gain weight without causing any adversity or side-effects. All you need to gain weight is proper nutrition which helps in growth and maintenance of body. Energy and daily caloric requirement may vary from person to person as per their work routine. But if you want to gain weight then you have to increase your daily caloric diet. In Ayurveda, low body weight is associated with the disturbance of body constitution and doshas, which cause depletion of fat in the body. Our body requires certain amount of fats for proper functioning of body functions. Due to this, underweight people suffer from weak immune system, anemia, fatigue, anxiety and lack of energy. For such instance, herbal products such as Accumass Weight Gainer Supplements work in a synergistic manner to increase body weight. These are the best mass gainer supplements which help to maintain the equilibrium between the disturbed doshas and metabolic system. These supplements are enriched with herbs that help to build the body by removing bad fat from the body, increase the good fats (HDL) and help to maintain the healthy weight.
Accumass Ayurvedic Mass Gainer Supplements contain a number of herbs that help to increase body weight by maintaining body constitution and metabolic rate of the body. Some of the Ayurvedic herbs used in Accumass weight gainer capsules and weight gainer powder are:
ASHWAGANDHA (WITHANIA SOMNIFERA): Herb "Ashwaghanda" used widely for its broad spectrum of benefits in the various Ayurvedic formulation. Ashwaghanda is used widely to reduce stress, fatigue, anxiety and other neurological disturbances in the body. Stress and anxiety cause the loss of appetite, unhealthy life style and other chronic disease types. Ashwaghanda helps in relieving from stress, fatigue and anxiety and promote the overall well being of the body. Ashwaghandha herb also possesses anti-inflammatory and anti-oxidant properties.
AMALAKI (EMBLICA OFFICINALIS): Amalki is also known as Amla. Amalki is used in various formulations as it helps to improve the immune system and metabolic rate. Amla is unique dietary resource of minerals, vitamins C and amino acid. Amalki contain amino acids such as Glutamic acid, proline, aspartic acid, alanine, and lysine. Amalki possess anti-oxidant, anti-bacterial and astringent properties. It helps to increase weight in hard gainers.
GOKSHURA (TRIBULUS TERRESTRIS): Tribulus is used for kidney problems, including kidney stones, painful urination, and as a "water pill" (diuretic) to increase urination; for skin disorders, including eczema, and scabies, for heart and circulatory system problems,  blood pressure, cholesterol, anemia, for problems with digestion, including colic, intestinal gas (flatulence), constipation, and to expel intestinal parasitic worms from the body. Gokshura helps in lowering cholesterol levels in blood and have shown regulating effect on blood sugar. It helps to increase the hormonal level and stimulating appetite and work as an astringent, tonic, and mood enhancer.
SHATAVARI (ASPARAGUS RACEMOSUS): Satavari is sweet and bitter herb that belong to family Asparagaceae. It is also known as "Shatamuli" or "Queen of herbs". It contains chemical constituents such as saponins, rhamnose moieties, sarsasapogenin, alkaloids, proteins, starch, tannin, isoflavones including 8-methoxy-5,6,4'-trihydroxyisoflavone 7-0-beta-D-glucopyranoside, asparagamine, racemosol and polysaccharides. Shatavari is used as aphrodisiac, galactogogue, anorexia, insomnia and for weight gain. Shatavari is also works as a demulcent for the dry and inflamed membranes of the lungs, stomach, kidneys and sexual organs.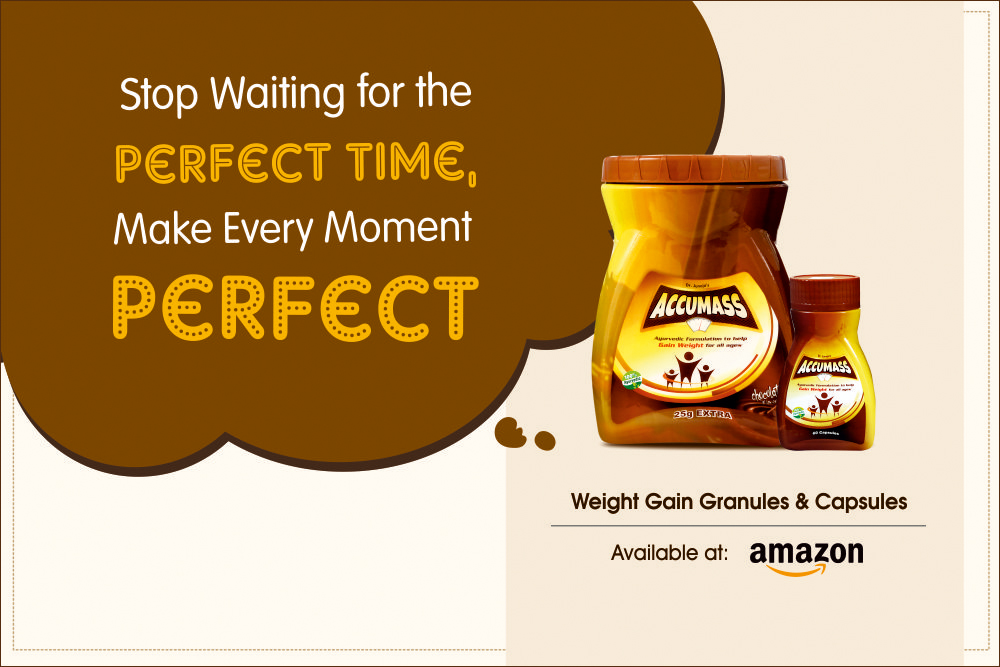 Searchable Tags: Gain Weight, Weight Gain, Accumass Weight Gain Supplements, Accumass Weight Gain Products, Is Accumass Good For Health, Natural Weight Gain Supplements, Weight Gain Capsules, Weight Gainer Supplements, Underweight Problems, Increase Weight Gain, Ayurvedic Medicine for Weight Gain, Weight Gain Powder, Weight Gain Supplements, Increase Body Weight, Natural Medicine for Weight Gain, Weight Gain Herbs Details, Best Vegetarian Powder for Weight Gain