How to Gain Weight Naturally
Most of the underweight people want to gain ideal weight but finds it difficult to gain weight. However, in general approach, being thin sounds like good for obese people, but underweight people is prone to various health related risks such as debility, weakness, emaciation and low immune system. Underweight people are more eager to gain weight and start doing all sort of experiments on their body to put some extra pounds on their body. They indulge in eating non-healthy junk food and start eating alot to gain weight but this will not help them to gain weight. In case of underweight body, most of the people suffer from rapid metabolism due to which body didn't get the proper nutrition from the food. To Gain Weight in Natural Way we have developed the Accumass Products from natural herbs that work synergistically to increase weight.
These are Some Quick Tips to Increase Weight in Natural Way:
#1. Accumass Ayurvedic Weight Gain Granules: Drink a glass of milk containing Accumass Weight Gain Powder two times a day to gain weight. Herbs present in Accumass weight gainer are helpful to increase the uptake of minerals, vitamins and macronutrients from food and also provide extra nutritional supplements to the body. Add two scoops of Accumass weight gain granules into the glass full of milk and shake well, after this Drink the delicious mixture of milk & Accumass weight gain granules.
#2. Eat Frequently: Eat frequently in a day; try to take small meals after every 3-4 hours to reduce the fat in your body. This will help you to slow down the metabolic rate effectively. Taking a meal after 6-7 hours make face look skinny and increase the metabolic rate. So, it is advised take a healthy meals after every 3-4 hours daily.
#3. Manage your Diet: Add foods in your diet which are rich in calories and help to gain weight naturally. You can add dairy products, peanut butter bread, salad, nuts, sesame butter, whole wheat bread, dried apricots, coconut milk, and avocados in your daily diet regimen.
#4. Add Carbohydrates in your Diet: To gain weight add carbohydrates in your daily diet routine such as rice, potatoes, legumes, beans, cereals and yogurt. These are some healthy food which contain rich amount of carbohydrates. Try to avoid foods such as junk foods and cakes.
#5. Do Exercise: The extra calories that you intake to increase weight should be digested too in a proper manner. Otherwise, it may cause the indigestion, fatigue and build up a fat in the body. Therefore, it is necessary to burn calories through exercise to get the benefit of food. Do exercises in the proper guidance of trained person to improve the overall health.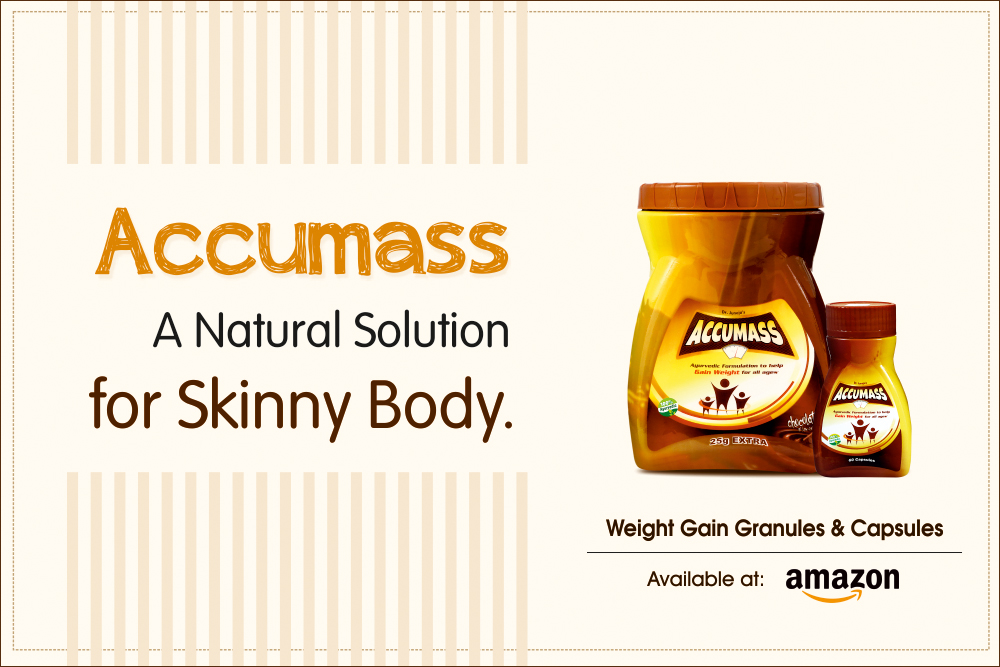 Searchable Tags: Gain Weight in Natural Way, Tips to Increase Weight in Natural Way, Weight Gain, Gain Weight Naturally, Increase Weight, Fast Weight Gain, How to Gain Weight Fast, Gain Weight Quickly, Natural Weight Gain, Gain Weight in a Healthy Way, Gain Muscle Naturally, How to Gain Weight Fast and Safely, Ways to Gain Weight Naturally, Home Remedies to Gain Weight, Complete Ayurveda Approach To Gain Weight Naturally, Accumass for Weight Gain
How to Gain Weight Naturally? If you have any other information to add on, then please add in comments.