Weight Gain Powder – Accumass
If you are suffering from trouble of being underweight and want to put some pounds of weight then Ayurvedic Weight Gainer Products are one of the best choices for you.  These products are
100% safe
Free from side-effects
Developed from natural herbs
Completely free from chemically synthesized compounds.
Accumass Ayurvedic Weight Gainer Powder is the unique blend of Ayurvedic herbs that helps to gain weight naturally. Ayurvedic acharyas suggested the use of various herbs that help to weight gain and to increase the immunity in a person such as Ashwaghanda, shatavari, drakhsa, haridra, gokhsura. Ayurvedic approach to weight gain is simple, healthy, holistic and completely free from adversity or side-effects. It helps to build the body weight by maintaining the balance between the body constitutions and relieve from the actual cause of being underweight.
Accumass Weight Gainer Powder helps in weight gain and build confidence in underweight people. Accumass weight gainer powder is enriched with traditionally used herbs and work synergistically when taken along with milk. To gain weight, first of all let's discuss the causes due to which you are not able to gain weight:
Metabolism: Most of the people suffering from underweight problem have a faster metabolism rate which means they burn calories at rapid rate. Various studies related to weight gain are ongoing. In higher metabolism rate, body is not able to take up sufficient nutrients from the food as body burn food quickly and there is nothing to fuel the muscles.
Growth Hormones: Growth hormones are also a responsible fact behind being underweight. In case of underweight people there may be a low secretion of hormones from the body. Hormone such as human growth hormone, testosterone responsible for weight loose and weight gain. Delayed release of hormones can cause weight loss and excessive release can cause weight gain. So, balanced secretion of hormones is required to maintain body weight and height.
Weak Immunity: Poor immune system can be a one of the reason behind being underweight. Due to weak immune system, body easily gets into contact of allergies and infection. Person with weak immune system often suffer from diarrhea, anxiety, stress and vomiting and find it difficult to gain weight.
Other Causes: Other causes may include lack of sleep, lack of protein and other nutritional supplements, too much cardio exercises, taking wrong supplements for weight gain. Along with them, anxiety, stress, lower tolerance too exercises, low energy level are also play a role in being underweight.
To Gain Weight in such Conditions, Accumass weight gain powder is one of the best choices for you. Herbs like Ashwagandha, shatavari and terrestris tribulus are well known for their properties to increase immunity level in body and uptake of nutrients to the body. Though the herbs used in Accumass weight gainer have long been used in Indian Ayurvedic practices but combination of these herbs yield synergistic effect to gain weight effectively. These ingredients are helpful to produce large gains in strength and work effectively to increase lean muscle mass.
Dosage to use Accumass Weight Gain Powder:
In morning, add two scoops of Accumass weight gain granules in luke-warm milk, stir well and enjoy the delicious chocolaty mixture. In evening between 5:00 pm to 6:00 pm, you can take Accumass weight gain delicious drink. In dinner time, take a healthy diet and after it take two capsules before going to bed. If required then you can drink an Accumass weight gain delicious shake in night before going to bed. Children above 6 years can take Accumass weight gain granules. For optimal results, take Accumass weight gain capsules along with Accumass weight gain granules for at least 3-4 months.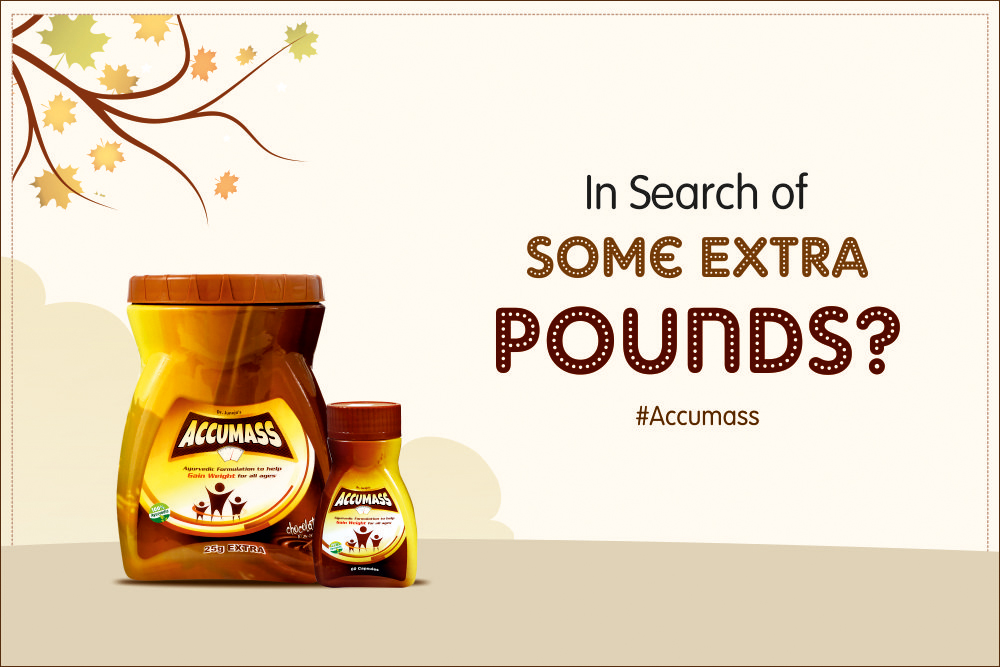 Searchable Tags: Accumass, How To Use Accumass Powder, Accumass Dosage, Gain Weight, Weight Gain Powder, Best Weight Gain Powder, Endura Mass, Nutrigain, No side-effects Weight Gain Powder, Natural Weight Gain Powder, Herbal Weight Gain Powder, Ayurvedic Weight Gain Powder