A New Approach to Get an Ideal Weight – Accumass
Accumass is one of the best available Super Weight Gainer in Indian market. Accumass Ayurvedic Weight Gainer Powder and Capsules are unique blend of herbs that are used traditionally to gain weight. As the formulation of Accumass is based on the Ayurvedic herbs, so it is completely free from adversity and side effects. It is work as a revolutionary formula which contains Gokhru that help to increase the growth hormonal level in the body and other herbs such as Ashwagandha and Shatavari which help to stabilize the metabolic rate in the underweight person. Ashwagandha is well known for its properties and contain chemicals that help to calm the brain and help to improve the immune system of the body. Shatavari means in Sanskrit is "A Women That Posses Hundred Husbands" that means it is highly acceptable and highly effective in various ailments.
To Gain Weight in a Natural Manner stick with a diet plan and perform regular exercises in proper guidance of well trained person. Try to take a meal after every 3-4 hours to gain weight and add Healthy Foods that are rich in carbohydrates, protein, mineral and vitamins in your diet. You can add cereals, white grain bread, yogurt, potatoes, strawberries, dairy products and other healthy products in your daily diet. Avoid foods that contain unhealthy fatty acids and carbohydrates such as junk food.
Take a delicious mixture of milk and Accumass Weight Gain Chocolate Powder as prescribed. In morning, add two scoops of Accumass Weight Gain Granules in luke-warm milk, stir well and enjoy the delicious chocolaty mixture. After breakfast, take two Accumass Weight Gain Capsules. In evening between 5:00 pm to 6:00 pm, you can take Accumass weight gain delicious drink. In dinner time, take a healthy diet and after it take two capsules before going to bed. If required then you can drink an Accumass Weight Gain delicious shake in night before going to bed. Children above 6 years can take Accumass Weight Gain Granules and Children above 12 years can take both Accumass Weight Gain Capsules and Granules. Instead of giving plain milk to children, you can give them delicious chocolaty mixture of Accumass Ayurvedic Granules. It helps to increase their Weight, Stamina and Physique. Add one scoop of Accumass Weight Gain Granules in luke-warm water, stir well and give it to children in morning and evening. Children above 12 years can take one capsule in morning after breakfast and one capsule in night after dinner.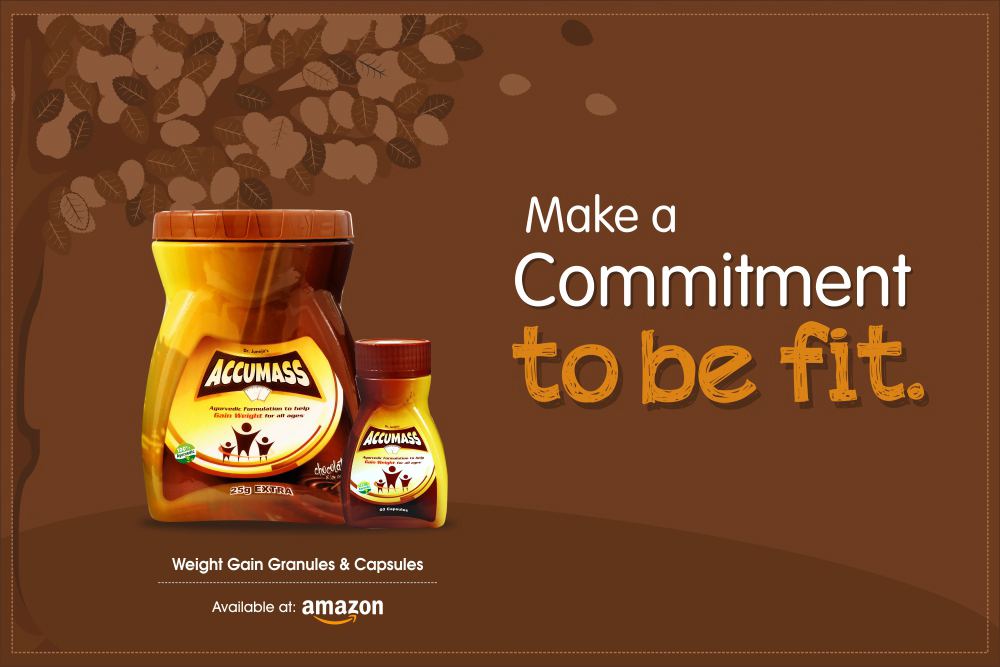 Searchable Tags: Faster Weight Gain, How to Gain Weight with Herbs, Weight Gain, Gain Weight Naturally, Increase Weight, Fast Weight Gain Herbs, Natural Way to Gain Weight, Gain Weight in a Healthy Way, Ayurveda Approach To Gain Weight Naturally
A New Approach to Get an Ideal Weight – Accumass? If you have any other information to add on, then please add in comments.