Best Ayurvedic Medicine for Weight Gain – Accumass
Accumass Ayurvedic Weight Gain Capsules are one of the Best Weight Gain Supplements that help in weight gain naturally. Accumass Weight Gainer Capsules are unique blend of Ayurvedic herbs that are renowned for their medicinal properties. Ayurvedic vaidyas suggested the numerous herbs that help to weight gain and to increase the immunity in a person such as Ashwaghanda, Shatavari, Drakhsa, Haridra and Gokhsura. Accumass Ayurvedic Weight Gain Capsules work on a simple, healthy, holistic approach and completely free from adversity or side-effects. It helps to build the body weight by maintaining the balance between the body constitutions and relieve from the actual cause of being underweight.
Accumass Weight Gainer Capsules helps in weight gain and build confidence in underweight people. Accumass weight gainer capsules work in a synergistic manner when taken along with milk. Accumass weight gain capsules help in
Metabolism: Most of the people suffering from underweight problem have a faster metabolism rate which means they burn calories at rapid rate. In higher metabolism rate, body is not able to take up sufficient nutrients from the food as body burn food quickly and there is nothing to fuel the muscles. Accumass weight gain capsules help to regularize the metabolic rate of the body and increase the uptake of micro and macronutrients in the body.
Growth Hormones: Growth hormones are also a responsible fact behind being underweight. In case of underweight people there may be a low secretion of hormones from the body. Hormone such as human growth hormone, testosterone responsible for weight loose and weight gain. Delayed release of hormones can cause weight loss and excessive release can cause weight gain. So, balanced secretion of hormones is required to maintain body weight and height. Herbs present in Accumass weight gain capsules such as gokhsura, amalki and vidarikand help to maintain the hormone secretion in the body.
Weak Immunity: Poor immune system can be a one of the reason behind being underweight. Due to weak immune system, body easily gets into contact of allergies and infection. Person with weak immune system often suffer from diarrhea, anxiety, stress and vomiting and find it difficult to gain weight. Accumass weight gain capsules help to boost the immune system from within by fortifying digestive system in the body.
Body Constitution: In Ayurveda, lose of body weight is due to disturbance of vata and kapha dosha. In such instance, Ayurvedic herbs help to bring these doshas back in the balanced state. Accumass weight gain capsules are enriched with such herbs that help to make body energies in the balanced state.
Stress: Stress is also a cause of being underweight. Herbs like ashwaghanda and shatavari help to relieve from stress, anxiety and fatigue. These herbs are present as chief constituent in the Accumass weight gain capsules. It also helps to induce sound sleep and increase energy level in the body.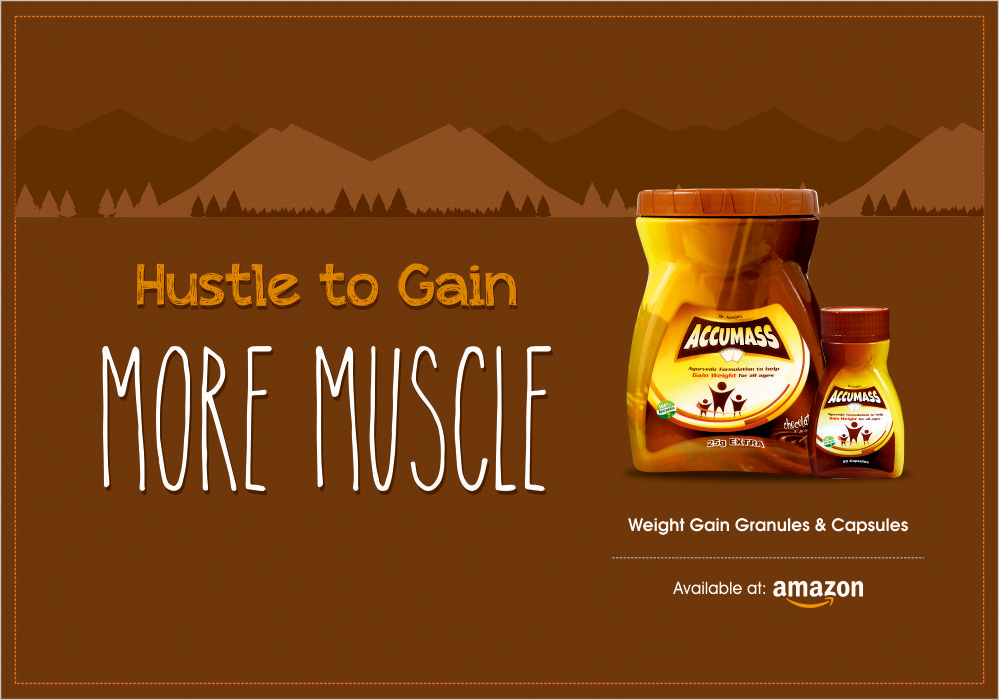 Searchable Tags: Medicine for Weight Gain, Medicine for Gain Weight, Weight Gain Pills, Weight Gain Capsules, Weight Gain Tablets, Herbal Weight Gain Capsules, AYurvedic Weight Gain Capsules, Natural Weight Gain Capsules, Safe Weight Gain Capsules